Seville
/
Metropol Parasol
Metropol Parasol Seville
'Las Setas de la Encarnación' - the Seville mushrooms

Visit Metropol Parasol in Seville? All info about Metropol Parasol, the striking attraction Setas de Sevilla or the mushrooms of Seville. The largest wooden structure in the world.
Metropol Parasol Sevilla
Info & Tickets Metropol Parasol Seville

Address
Plaza. de la Encarnación Seville
Metro
Line 1 (walk 800 meters from this square to metro station) or bus line 27 or 32
Tickets
Entrance tickets "El Mirador" daytime € 5 and evening € 10

New: You can also do a VR-Tour at Metropol Parasol (more info and bookings)

Hours

November to March: Monday to Sunday from 9.30 am to 0.00
April to October: Monday to Sunday from 9.30 am to 0.30 am

Website
www.setasdesevilla.com
'Las Setas de Sevilla' - Metropol Parasol
Standing in the Plaza de la Encarnación is Metropol Parasol, also known as the 'mushrooms of Seville' ('Las Setas de Sevilla'). This building, which opened in 2011, was designed by the German architect Jürgen Mayer, who won a design competition to revitalise the square. It is the largest wooden construction in the world (150 x 70 meters and 26 meters in height). Mayer won the competition partly thanks to the way he integrated the remains of a Roman colony into his building. People originally wanted to build a parking lot here, but that idea was abandoned when these Roman remains were discovered.
Metropol Parasol & Mirador
The mushrooms of Metropol Parasol zare not only a wooden construction that covers the square, but on top of the parasols, there is a special walkway and a terrace with beautiful panorama ("El Mirador"). Metropol Parasol also offers an archaeological museum (Antiquarium, see below), shops, several bars and restaurants. A stroll across the Metropol Parasol is certainly worthwhile during your Seville city trip.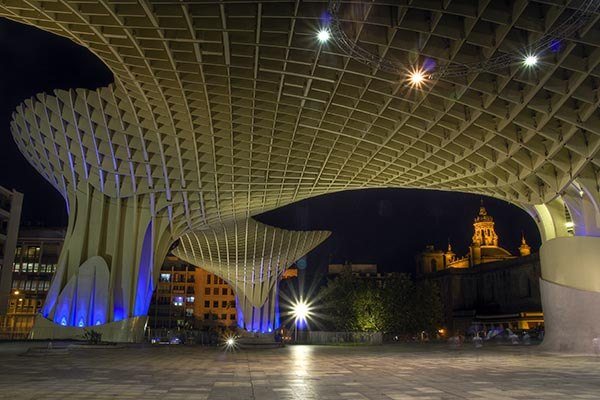 Metropol Parasol at night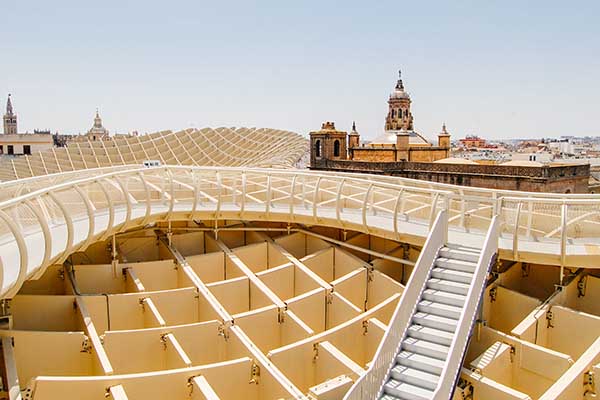 The roof of Metropol Parasol
Antiquarium (Setas de Sevilla)
Info Antiquarium

Address
Pl. de la Encarnación Seville
Tickets
Tickets: 2 € / Up to 16 years free
Opening hours

Tuesday to Saturday from 10am to 8pm
Sundays and holidays from 10am to 2pm

Website
icas.sevilla.org
The antiquarium is an archaeological museum located 5 meters below street level. It is located in Metropol Parasol and shows the remnants of a Roman colony with Roman mosaics and houses from the first century AD. On top of the Roman settlements, houses were built by later generations like the Moors. During your visit to this museum, you will get a picture of how people used to live in Seville. Are you interested in archaeology? Then visit the archaeological museum of Seville.
Location of Metropol Parasol in Seville
Nearby the Setas de Sevilla are also:

Our readers say
4.8
(95.86%)
10
reviews
October 22, 2023
Melissa

: "

We had a fantastic holiday in Sevilla Spain because of the interesting tips for sightseeing, activities and best things to do in Seville city.

"