Seville
/
Plaza de Toros
Plaza de Toros Seville
The bullring of Real Maestranza de Caballería de Sevilla

Real Maestranza is one of Seville's most emblematic monuments. Plaza de Toros in Seville or the bullring of the Real Maestranza de Caballería in Seville.
Plaza de Toros - Bullring Real Maestranza
Info & Tickets Plaza de Toros Seville & Museum

Address
Paseo de Cristóbal Colón, 12 Seville
Metro
Puerta de Jerez
Tickets

Entrance to the museum with guided tour in the arena € 10
Guided tours € 25 (online reservations)
65+ and students: € 6
0 - 6 years: free admission
7 to 11 years: € 3,50

Hours
From Monday to Sunday 9:30 am - 7:30 pm
Closed on December 25th
Website
www.realmaestranza.com
Bullfighting
Bullfighting takes place during the Feria de Abril, throughout the year until September, and usually on Sundays. Ticket prices vary from 20 euros to hundreds of euros.
Plaza de Toros de Sevilla
The Plaza de Toros de Sevilla is the largest and most important arena for bullfighting in Spain. For example, the largest bullfighting festival in the world is held during the festival week Feria de Abril. The full name is "La Plaza de Toros de la Real Maestranza de Caballería de Sevilla". The oval arena is located in the El Arenal harbour district, was built in the 18th century and can accommodate 13,000 spectators. The Plaza de Toros has a unique Baroque façade, dating from 1762-1881.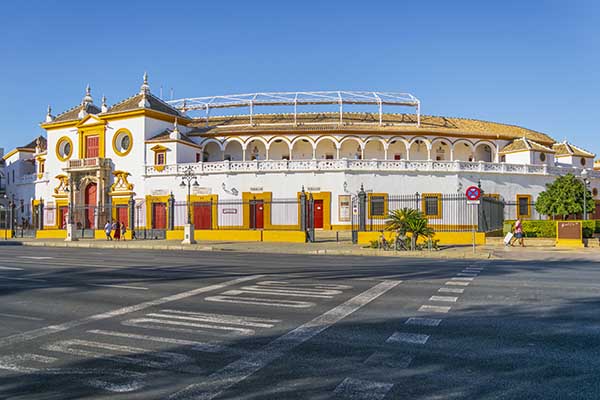 Entry to the bullfighting arena of Seville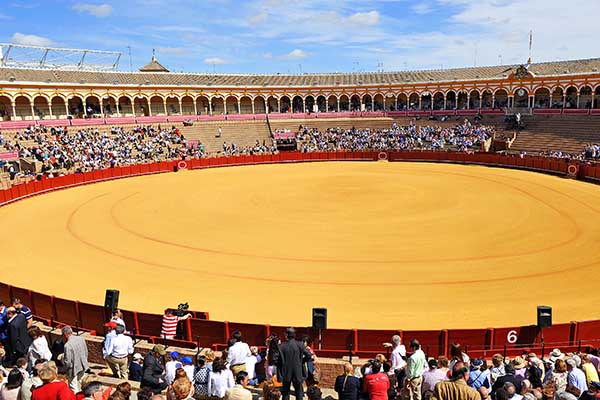 Arena of Plaza de Toros in Seville
Museo Taurino (Museum of bullfighting)
In the Plaza de Toros, there is also the 'Museum of bullfighting' with, among other things, a hall with paintings about bullfighting. The museum displays all kinds of objects that show the history and evolution of bullfighting and toreros in Spain.
Located near the bullfighting arena are several statues of people who were significant in the history of bullfighting, like the toreators Curro Romero, Manolo Vázquez and Maria de las Mercedes from Bourbon-Sicily, the mother of King Juan Carlos.
Location of Plaza de Toros in Seville
Nearby the Seville arena are also:

Our readers say
4.8
(95.86%)
10
reviews
July 11, 2023
Melissa

: "

We had a fantastic holiday in Sevilla Spain because of the interesting tips for sightseeing and activities in Seville city.

"