Seville
/
Triana
Triana district of Seville
Barrio de Triana - a neighborhood of artisans and flamenco

Visit Barrio de Triana in Seville? The charming and colourful district of Triana on the other side of the Guadalquivir. A quarter of artisans and flamenco.
Triana Seville
Triana is the district located on the other side of the Guadalquivir in Seville and is accessible by the bridge 'Puente de Isabel II'. It is a lively working-class neighbourhood that has produced quite some famous bullfighters and flamenco dancers. Triana is not a district with spectacular sights. Rather, it is an authentic quarter interlaced with small streets that are a pleasure to wander through. Although this was originally the most important district in Seville, you will find surprisingly few tourists here.
Historically, the Triana district was central to all major (water) roads of the city. This commercial district was famous for its typical Azulejos tiles and pottery. Azulejos are ceramic tiles with a typical blue painting. After Guadalquivir silted down, Triana became even more of a working-class district.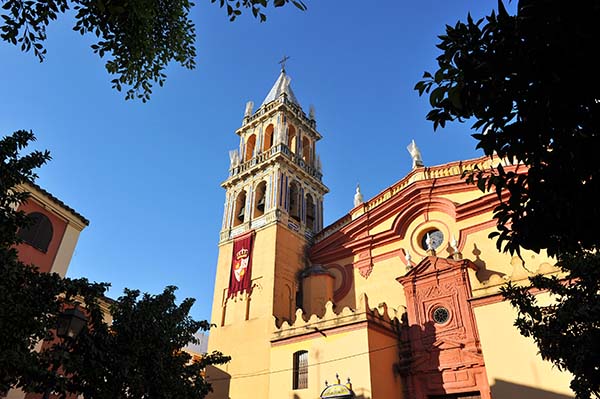 Iglesia Santa Ana in the Triana district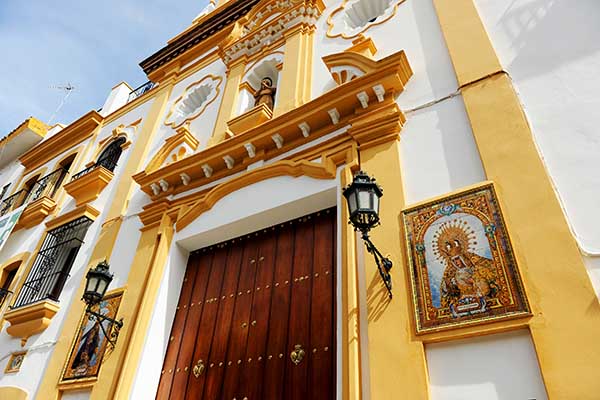 La Capilla de los Marineros in Barrio de Triana
Places to visit in 'Barrio de Triana'
The Santa Ana Church of 1276 is the most famous church of this district. According to legend, children who are baptised here will receive a good voice for flamenco. The 'Iglesia Santa Ana' is open for visits (Monday to Thursday, from 10:30 a.m. to 1:30 p.m. Friday from 11:00 a.m. to 1:30 p.m. Monday to Friday, 5:00 p.m. to 7:00 p.m.).
Another church is 'La Capilla de los Marineros' in the street Calle Pureza 52. This is the chapel of the marines with the statue of the Virgin Esperanza de Triana. During the Semana Santa, this statue is carried back and forth across the city to the Seville Cathedral.
The Triana district is a nice addition to your city trip. Wander through the streets or relax on one of the terraces or restaurants (Calle Betis) on the colourful boulevard of the Guadalquivir. In the evening you have a beautiful view here.
Furthermore, the Mercado de Triana, the daily fresh market is worth a visit. Here the local residents come for a rich and varied selection of fruits, vegetables, meat, herbs and fish in the morning. Be sure to try some dishes at the small eateries.
Flamenco in Seville
If you want to see a real flamenco show, visit one of the following flamenco shows in the Triana district:
Pura Esencia (Calle Betis, 56), daily shows, book tickets
Baraka Sala Flamenca (Calle Pages del Corro, 70), Wednesday to Sunday 22:30)
La Anselma (Calle Pages del Corro, 49) Monday to Saturday from 20:00 to 01:00
El Regoneo (Calle Betis, 31) starts from 24:00
Lo Nuestro (Calle Betis, 31A, next to El Regoneo)
Lola de los Reyes (Calle Blas Infante, 6)
Location of the Barrio de Triana in Sevilla
Nearby Triana are also:

Our readers say
4.8
(95.86%)
10
reviews
October 22, 2023
Melissa

: "

We had a fantastic holiday in Sevilla Spain because of the interesting tips for sightseeing, activities and best things to do in Seville city.

"