Seville
/
Santa Cruz district
The Santa Cruz district
The old city center & the Jewish quarter of Seville

Visit the Santa Cruz district in Seville? All about the Barrio de Santa Cruz, a district of Seville. The attractions of this Jewish quarter and the historic center of Seville in Andalusia.
Barrio Santa Cruz: the Jewish quarter of Seville
The Santa Cruz district is the former Jewish quarter of Seville. Located in this old quarter are some important sights, such as the Alcazar Palace and the Giralda Tower of the Cathedral. The neighbourhood is a maze of narrow streets and alleys, where you can wander around or enjoy one of the many (touristy) restaurants or attractive squares. Nowadays, this district, with its many white houses, is the tourist centre of Seville.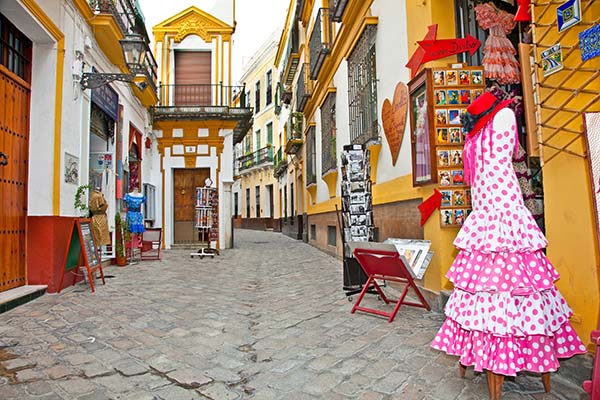 Downtown Seville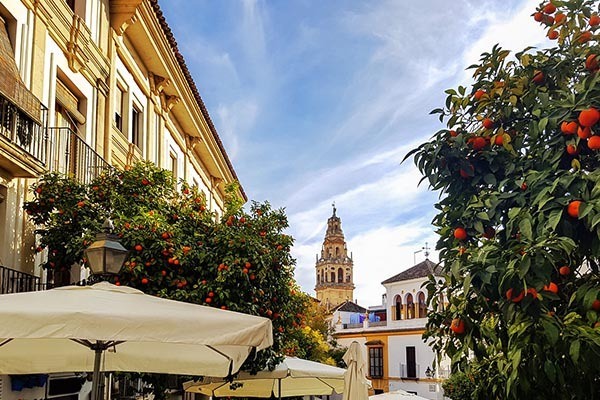 Barrio de Santa Cruz and the Giralda Tower
A long time ago, Seville had the largest Jewish community in Spain. When Ferdinand III of Castile conquered the city from the Almohads in 1248, he handed over this district to the Jews. In this district, they could live with relative freedom. Things went sour during the 14th century. There was a period in which the Jewish people were driven out or even killed if they did not convert to Christianity. After all Jews were driven out of the city in 1492, they left this beautiful neighbourhood forlorn.
Places to visit in the historic center & Santa Cruz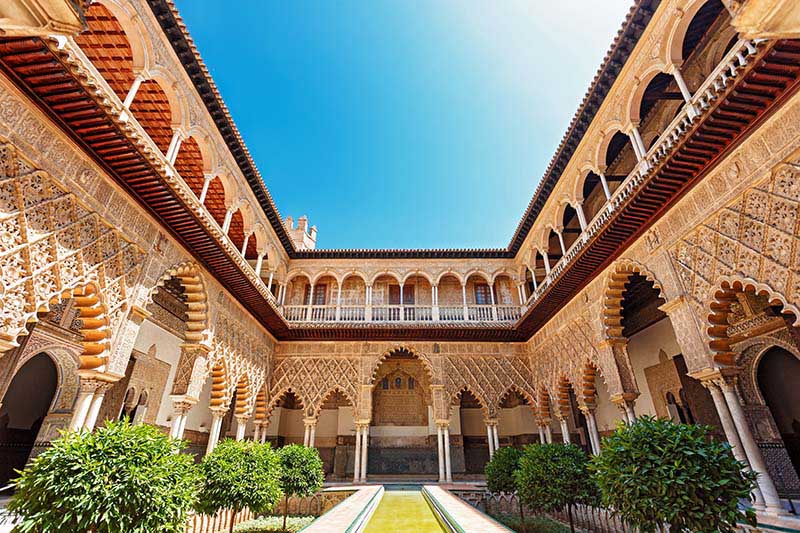 Alcazar - The royal palace of Seville
The royal palace of Seville is the landmark of Seville. The name 'Alcazar' means castle, and the architectural style is a mix between Moorish and Christian cultural influences.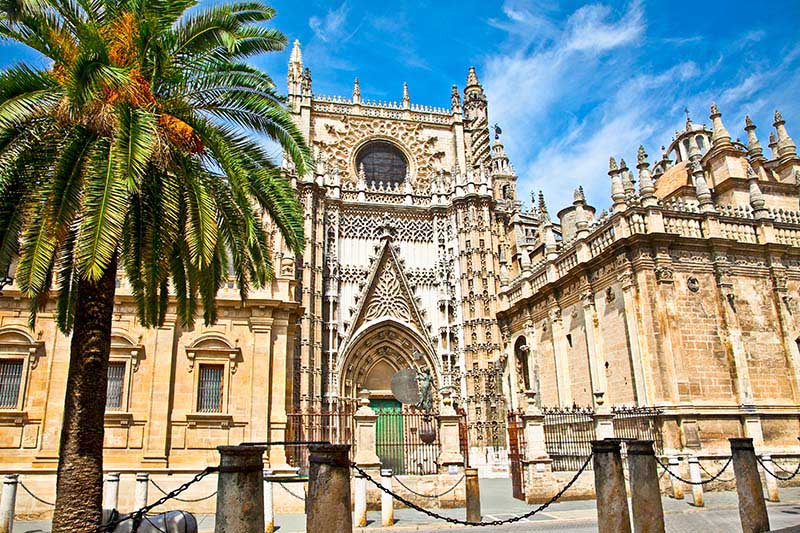 Cathedral of Seville & La Giralda
Visit the impressive Cathedral of Seville with the old Giralda Tower, which was originally part of the first mosque.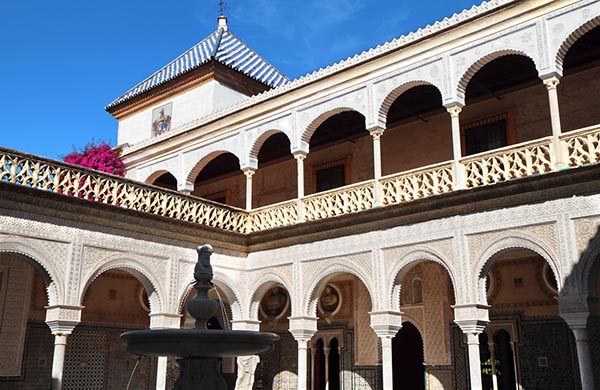 After the Alcazar, this is the most beautiful palace in Seville, and one of the best well-preserved buildings from the 16th century.
Jardines de Murillo
At the edge of the neighborhood is the park 'Jardines de Murillo'. Murillo was a Spanish painter of the 17th century. In the photo you can see the monument in honor of Christoffel Columbus.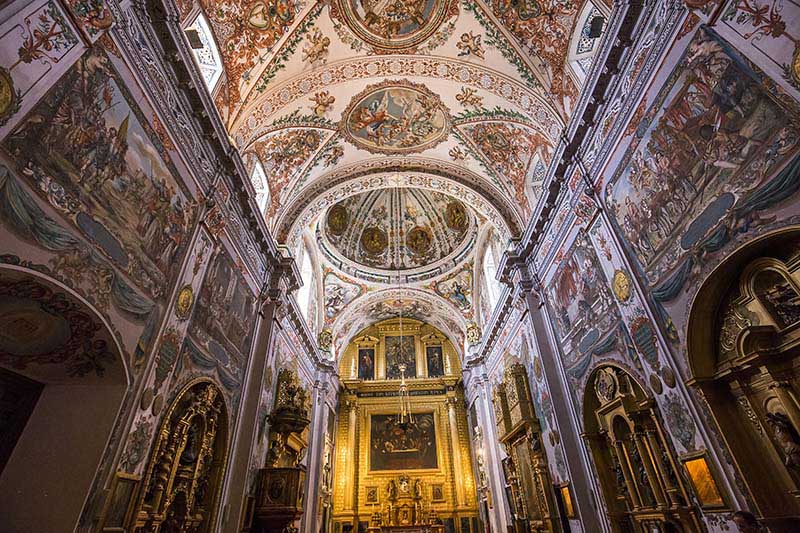 Hospital de los Venerables Sacerdotes
This building was designed in the 17th century and served as a hospital for priests. Visit the church with beautiful frescos.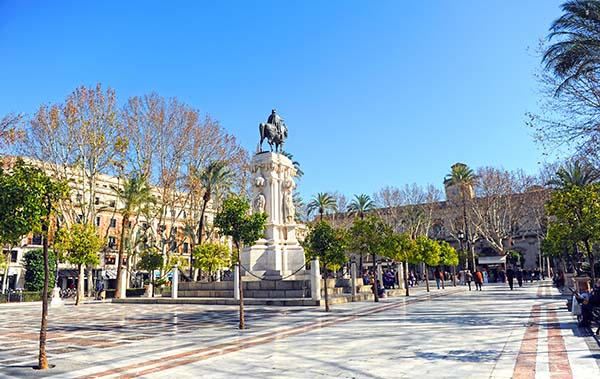 Plaza Nueva
Plaza Nueva is the central square with the Seville Town Hall (Ayuntamiento). In the square is a large statue of King Ferdinand III of Castile.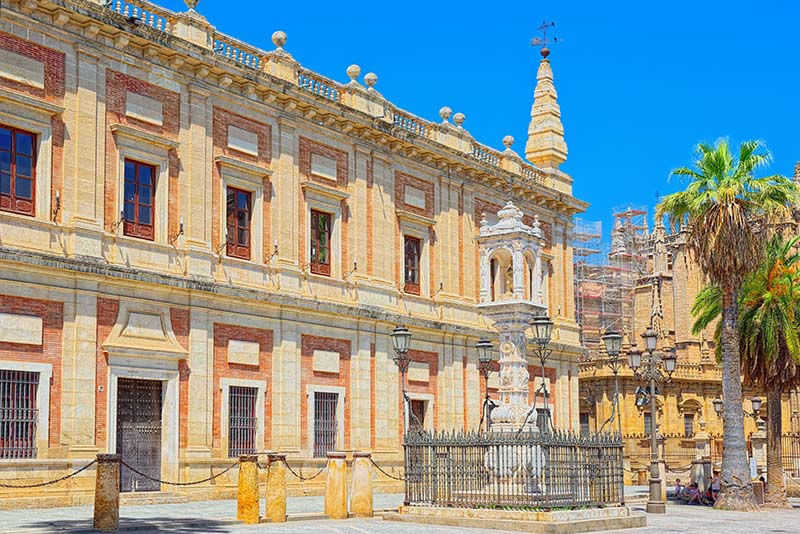 The Archivo General de Indias dates from the end of the 16th century. It first served as a trading house, but in 1785, Charles III decided to establish the Indies archives here.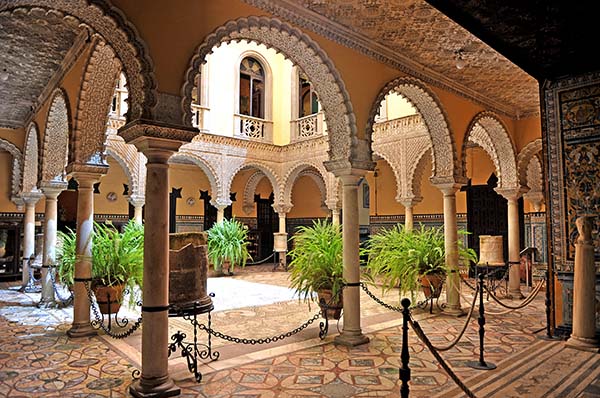 Palacio de la Condesa de Lebrija
A museum was established in this city palace and former residence of a noble family. Countess de Lebrija filled her entire palace with art, luscious rooms and beautiful mosaics. Entrance € 6.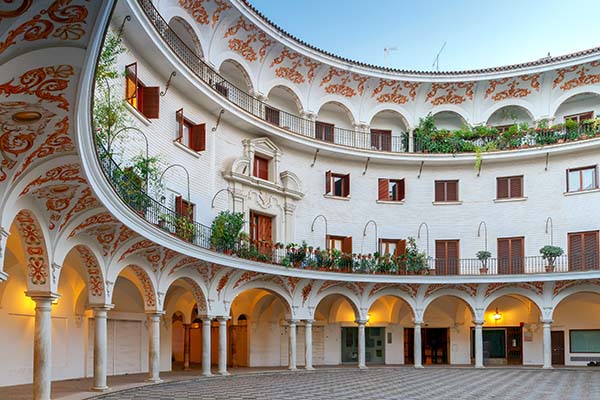 Plaza de Cabildo
Tucked away near the cathedral is a beautiful semi-circular square. This is a lovely, quiet square, except on Sundays when there is a collectors' market.
Where is this Seville neighbourhood?
More tourist attractions in Seville: