Seville
/
Torre del Oro
Torre del Oro Seville
The Tower of Gold at the Quidalquivir in Sevilla Spain

The Golden Tower is one of Seville's iconic landmarks. La Torre del Oro is a military observation tower in the city of Sevilla Spain.
Visit Torre del Oro in Seville
Info La Torre del Oro & Museo Naval

Address
Paseo de Cristóbal Colón, Seville
Metro
Metro station 'Puerta de Jerez'
Entrance

Tickets € 3
Students, children from 6 to 14 years old, 65+: € 1.50
Up to 6 years old: free admission

Opening hours

Monday to Friday: 09:30 to 18:45
Saturday and Sunday: 10:30 to 18:45
Closed on public holidays
Torre del Oro, tower of gold
The Torre del Oro is the "Tower of Gold" in Seville. The 36-meter-high tower was built by the Almohads in the 12th century and was part of the Moorish city wall, which ran between the Alcazar Palace and the rest of Seville. The purpose of the tower was to control shipping on the Guadalquivir. A heavy chain ran under water from the massive tower to the other side to prevent enemy ships from sailing on the river.
The Torre del Oro is located next to the Guadalquivir River and near the Plaza de Toros. The name "Golden" tower refers to Andalusia's prosperous period during the times of the Latin American colonies. When ships entered Seville via the river, they could discharge their cargo (gold) here. In addition to being a storage place, the middle part is a prison. Another reason for the name would be that, in the past, the sight of the second section seemed to be gilded and a golden sheen shone in the river. The last small turret was added to the top only in 1760.
Museo Naval de Sevilla
Today, a maritime museum is located on the top floor of the Torre del Oro (Museo Naval de Sevilla). The Museo Naval is a small museum and displays antique shipping instruments, scale models and sea maps. You also have a nice view over the Guadalquivir from this location.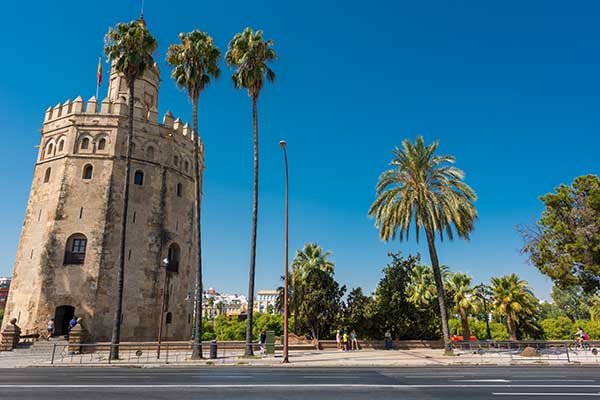 The Tower of Gold in Seville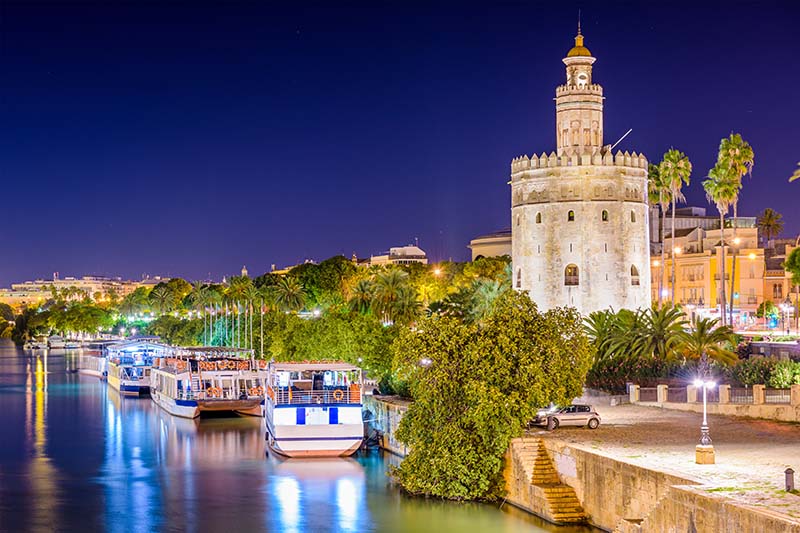 Torre del Oro is located on the Guadalquivir
Location Torre del Oro Sevilla
Nearby the Tower of Gold are also:

Our readers say
4.8
(95.86%)
10
reviews
July 11, 2023
Melissa

: "

We had a fantastic holiday in Sevilla Spain because of the interesting tips for sightseeing and activities in Seville city.

"