Seville
/
Transport & Metro Seville
Seville Transport, Metro & Airport
Public transport Sevilla Spain and Seville airport transfers

Info about public transport options in Seville: bus, taxi, metro, train and airport transfers or shuttles to Seville city centre.
Public transport in Seville
Metro: Seville has one metro line with 22 stations and at the moment they are busy working on three metro lines. The stops of the metro can be found here, but the line is primarily intended to connect you to the suburbs of Seville. A one-way trip starts at € 1.35 and look here for more information.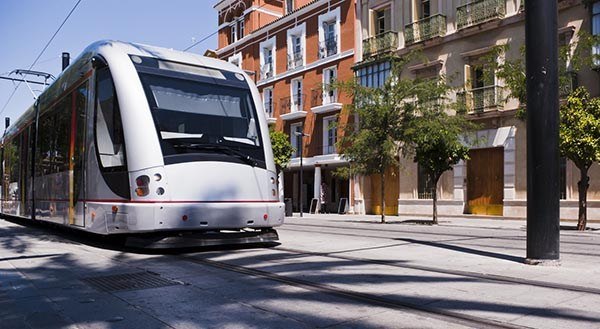 Tram (Metro-Centro) in Seville Tram (Metro-Centro): The Metro-Centro tram is a 1.4 km line through the center of Seville. The tram connects Plaza Nueva to Avenida de la Constitucíon (near the cathedral). The tram stops at Archivo de Indias, Puerta de Jerez, San Sebastián and San Bernardo.
Bus: Seville has a great network of buses. Most buses depart from Puerta de Jeres (south of city center) or Plaza Ponce de Leon (east of city center). The Plaza de las Armas is mainly a bus station to travel to other Spanish cities and from the bus station Prado de San Sebastián the local buses depart. Bus tickets are available from the driver (from € 1.30) or in a kiosk. City buses C1, C2, C3 and C4 run in, through and around the center. More information on busses of Tussam
Train: Trains depart from Santa Justa station and are intended for transport between Spanish cities. More information on Renfe trains.
Seville Travel Card
Tip: A very handy public transport product has recently been launched on the market, the Seville Travel Card. With this card (from € 45) you have the following transport including:
Private taxi from the airport in Seville to your accommodation (one way), where the driver will meet you at the airport with a name sign.
Optional: Seville public transport card for 3 days (metro, bus and tram). You will then receive this from your driver in the taxi (speaks english).
From the airport to Seville city centre
Seville Airport is located 9 kilometers east of Seville city centre. To go from the airport to the centre of Seville you have these options:
Shuttle Bus EA: The Aeropuerto Especial is a shuttle between the airport and the centre. In this bus from Tussam, you can buy a single ticket for € 4 (return € 6) and the journey from the airport takes 30 minutes. Buses leave for the arrival hall of the terminal. The stops are: Avenida Kansas City, Luis de Morales, San Bernardo, Prado Bus Station of San Sebastián, Paseo de Colón (near Torre del Oro), and the bus terminal Plaza de Armas (Departure times and more information).

Taxi: The taxi will take you from Seville airport to the city centre in 15 to 20 minutes for a fixed price (about € 30). Tip: If you book the abovementioned Seville Travel Card, a airport transfer is already included.

Private airport transfer: If you want to book a reliable taxi without stress, you can book it before your trip. The taxi driver will then pick you up from the airport. I've had good experiences with Welcome Pickups, where a taxi driver will meet you at Seville airport with a name sign. With this you are sure of an available taxi and the price will hardly differ from a normal taxi. Simply check your fare at Welcome Pickups.
4. With a rental car: Are you going to make a tour through Andalusia? There is a good chance that you will start your trip in Seville or Málaga. We have very positive experiences with car rental at the airport through Easyterra. If you have a rental car, you should make sure that you book a hotel on the outskirts of the city with parking. In large parts of the old center you prefer not to drive a car. Good hotels with parking are for example Hospes Las Casas Del Rey De Baeza and Eurostars Guadalquivir. You can search for your rental car using the search engine below:
Seville Hop on Hop off Bus
Almost every major city has a hop on hop off bus, including Seville. It's a convenient and quick way to see all the sights, especially the ones that are a bit more on the edge of the old town. The total route along the 14 stops takes 75 minutes and the bus runs every 30 minutes. You can get in and out for 24 hours between 10am and 9pm. The price is from 25 € (children from 5 - 12 years old for 13 €).
Taxi in Seville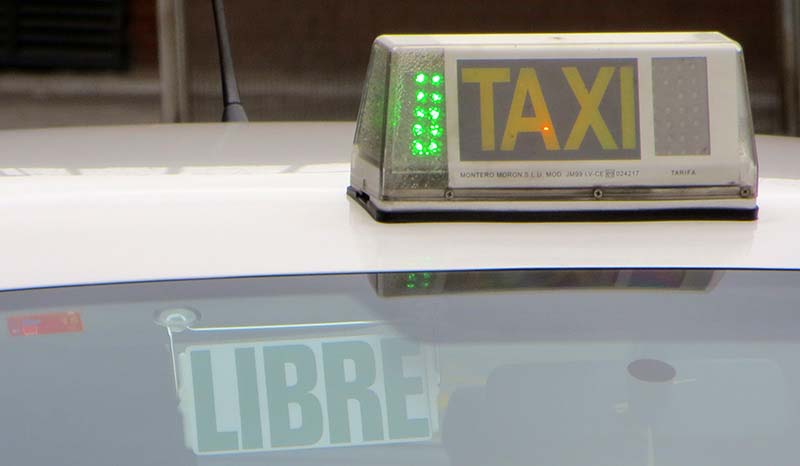 Taxis in Seville are cheap and always go by the meter. These official taxis are white and have a yellow line. There is a higher rate at night, weekends and holidays. You can take a taxi in two ways; You go to one of the many taxistands (close to every tourist sight) or stop one in the street. The taxi will take you from Seville airport to the city centre in 15 to 20 minutes for a fixed price (about € 28, you can already prebook at Welcome Pickups). A short trip to the city costs between 7 and 8 euros.

Our readers say
4.8
(95.86%)
10
reviews
July 11, 2023
Melissa

: "

We had a fantastic holiday in Sevilla Spain because of the interesting tips for sightseeing and activities in Seville city.

"