Seville
/
María Luisa Park
María Luisa Park Seville
Parque de Maria Luisa de Sevilla, the gardens next to Plaza de España

María Luisa Park in Seville: The large Seville Park with the famous square of 'Plaza de España', gardens and other buildings of the 1929 Ibero-American Exhibition.
María Luisa Park in Seville
Visit the gardens of the Maria Luisa Park in Seville

Address
Av. de María Luisa Seville
Metro
Metro station Prado de San Sebastian (line 1)
Hours
The park is free to visit. Every day from 8:00 to 22:00
The María Luisa Park is the most famous park of Seville (officially Parque de María Luisa de Sevilla). Originally, this park was part of the gardens of the San Telmo palace, but in 1893, the gardens were donated to the city of Seville with the aim of creating a large public park.
María Luisa Park & Plaza de España
The Parque de María Luisa is adjacent to the famous Plaza de España. This square was built for the Ibero-American exhibition of 1929; the gardens, in turn, got a more central role in Seville. On the other side, the green gardens border the river Guadalquivir. The French landscape architect Nicolas Forestier and the Spanish architect Aníbal González were allowed to redesign the park and design some special pavilions (the park includes the pavilions of the United States, Argentina, Mexico, Guatemala, Colombia and Brazil).
The park is an oasis of peace in Seville and provides some cool relief on hot days, thanks to the shady footpaths, fountains and the expanse of beautiful Mediterranean trees and colourful flowers. For many Sevillians, the park is an ideal place for a picnic, for a romantic walk or for cycling (a fun activity is to rent a four-wheeler bike in the park).
Places of interest in Maria Luisa Park
Next to Plaza de España, the park has another important square, namely Plaza de América, a square flooded with pigeons. Located on this square is the former Plateresque Pavilion, where the archaeological museum is now housed as well as the Mudéjar Pavilion, where the Museo de Artes y Costumbres Populares (museum for ethnology) is located.
In the park, you can also find statues of two great Spanish writers, Gustavo Adolfo Becquer and Miguel de Cervantes. There are also a number of fountains, such as the lion fountain and the waterlily pool.
Pictures of the gardens and buildings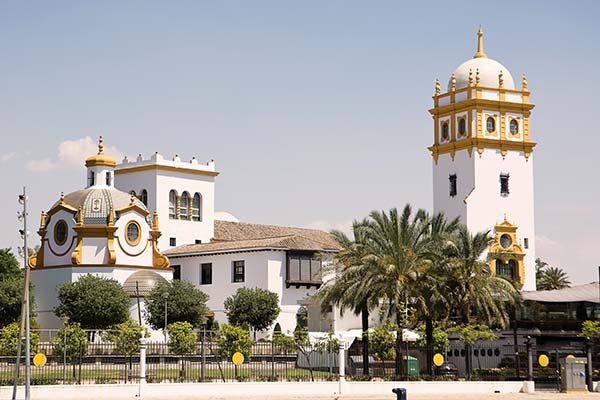 The argentinian pavilion
Teatro Lope de Vega
Location of Parque María Luisa Park in Sevilla
Nearby the park are also:

Our readers say
4.8
(95.86%)
10
reviews
October 22, 2023
Melissa

: "

We had a fantastic holiday in Sevilla Spain because of the interesting tips for sightseeing, activities and best things to do in Seville city.

"